Fond du lac Yoga Instructor
Renee L. Waters, Certified in Massage Therapy, Reflexology, Iridology, Naturopathic Medicine and most recently a (200 Hour) Yoga instruction training program (Himalayan Institute) Philosophy. Renee would like to share her gifts of Healing W/ Meditation, ART & Yoga with you. Classes are forming now ...If you are looking for a interesting event or relaxation exercise to do with your group or class..please contact me..Renee has been in business since 1984..Hence The Country Doctor Since 1984.
There are many modalities to chose from. I am offering a Couples Spa & Detox Day...If you are interested in Traditional Naturopathic Medicine than you have come to the right place..I can offer you a get well package for a Third of the price you will go anywhere else..My clients see about 85% results..Please give this Old Wise Women...a try...I have alot of experience under my belt and a lot of it is very simple and common sense practices..You will be amazed at what a few treatments on your body, diet and exercise and some good quality herbs and vitamins can do for you. I am a one stop shop..I have it all here for you.
Also, New to my practice - a professional yoga instructor, RYT since 2018. We provide professional yoga instruction in order to provide our clients with a variety of benefits. Some of the more common benefits our clients experience are:
Increased flexibility
Increased strength
Improved posture
Better concentration
I invite you to contact me today and experience for yourself the benefits of a professionally licensed and insured yoga instructor.

In health,

Renee Waters LMT, ND, RYT



Search Our Website
---
Map & Directions
Need a map and/or directions to our clinic? Check out our interactive map to ensure you arrive safe and on time for your upcoming appointment.

---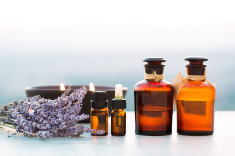 I offer Private yoga sessions, Spa Yoga Retreats, Yoga/Massage Therapy..Essential Oils Consultations. Call Today for your Specialized Assessment..